If you're trying to renovate your bathroom on a budget, getting a new countertop will definitely be out of the question. Fortunately, you can transform your bathroom without necessarily having to break the bank by painting your existing countertop.
If your bathroom countertop is still structurally sound, you can paint it using enamel or acrylic-based paints. These kinds of paint can withstand moisture and heat and provide an impenetrable surface for the countertop. Some even offer protection from mold and mildew.
Painting your bathroom countertop will save you a lot of bucks if you do it correctly and buff up your DIY skills. So let's jump into the details and find out everything you need to know about painting your old bathroom countertops.
Does Painting Bathroom Countertops Work?
Painting your bathroom countertop could give it a lovely shimmer and leave it looking stunning and brand new. First, however, you need to know right off the bat that painting the countertop requires the utmost precision and knowledge.
You can't just wake up one day, grab some paint and a paintbrush, head to the bathroom and start painting the countertop. The result would be a weak layer of paint that eventually comes off. So, more than anything, proper know-how is key to carrying out this project successfully to begin with.
If you lack the patience necessary to perform this task correctly, it would be best to abort the mission altogether. Otherwise, you'll lose a lot of time and money in the long run, not to mention the frustration and disappointment you'll face.
But if you're determined to see this project through, it wouldn't hurt to learn how to paint your bathroom countertop correctly. After all, no one wants a bathroom countertop with peeling paint.
Before kicking off the task, you must know the upsides and downsides of painting your bathroom countertop.
The Pros
It saves on cost: Acquiring a new bathroom countertop could cost you a fortune. That's why most homeowners opt for a cheaper alternative, and painting the countertop is one of the most affordable ways to revamp them.
Painting is easy: Painting the countertop is easier and faster than tearing it down and installing a new one. You could either paint it yourself or hire a pro to do it.
Unlimited Design Options: Unlike countertop laminates or natural stone, paint offers many color and design options. You can play around with the paintbrush and give the countertop whichever color or pattern you want.
Paint is easy to change: You can easily switch up the paint color whenever you feel like it.
The Cons
Paint wears off if done poorly: If you did a poor paint job, it would eventually peel off, leaving your bathroom countertop unsightly.
It's vulnerable to heat and moisture: Moisture and heat harm most paint forms. So you may need to put in extra work to maintain the countertop.
You might damage the existing surface: Painting over certain types of bathroom countertops, like quartz, isn't a good idea as you could damage the existing surface.
What Kind of Paint Can You Use on Bathroom Countertops?
You can use enamel or acrylic-based paints on your bathroom countertop for the best results. These types of paint can handle moisture and heat, making them perfect for use in the bathroom. They also dry up fast and provide an impenetrable surface for the countertop.
Here are some of the finest paint brands specially made for use on bathroom countertops:
Showcase HGTV Home by Sherwin-Williams
It's a very highly rated paint. While one coating of this fine paint could suffice, using two or three coats for your bathroom countertop would be best.
It offers a satin sheen finish, making it an excellent choice for such a frequently used surface. Additionally, the paint is resistant to stains and scratches and comes with a film of mildew resistance in its finish.
Valspar Signature
It comes with a semi-gloss finish and is great for frequently used surfaces like bathroom countertops. In addition, it boasts the ability to stand up to anything, probably due to its paint plus primer formula.
Moreover, the paint leaves a smooth, clear film on the surface once it dries, which protects it from mold and mildew and makes it easier to clean up.
Zinsser Perma
This beautiful all-white paint offers the clean and modest look you're probably looking for in a bathroom countertop. It's specially made for places like countertops prone to water exposure.
It's self-priming and can stick to almost any surface. So, it can stick to your bathroom countertop with little effort. In addition, this paint won't have you waiting too long before you can clean up as it only takes around 30 minutes to dry.
Behr Ultra Interior Enamel
It's considered the best bathroom countertop paint on the market. This smooth paint offers ultra-coverage and resistance to mildew and stains. It has a semi-gloss finish, and you can find it in various exciting colors.
Aura Bath and Spa- Benjamin Moore
This paint is a little different from the rest because it doesn't have a glossy finish, unlike other standard bathroom paints. Instead, it offers a matte finish but has all the great qualities of top-quality bathroom paint. This is made possible by the paint's formulation—100% latex with proprietary resin.
It's incredibly durable, stands up to wet and steamy conditions, and can hide surface imperfections very well. It's also a great option for painting over tile. All these might sound impossible for paint with a matte finish, but the Aura Bath and Spa- Benjamin Moore won't fail to deliver.
Paint Alternatives: How to Refinish Your Bathroom Countertop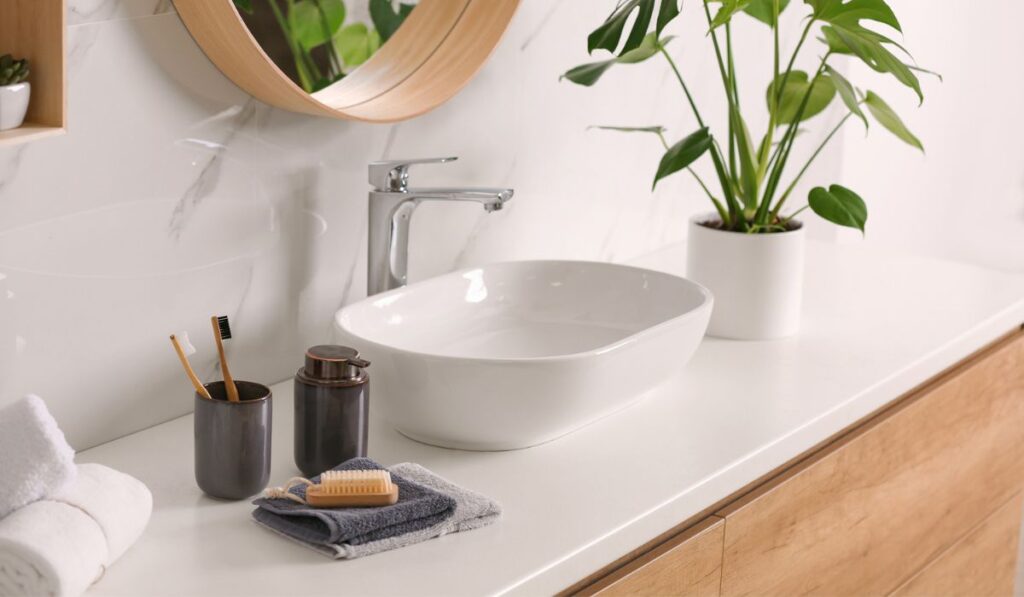 Sometimes painting your bathroom countertop may not be possible. The good news is there are other ways to spruce up your countertop that don't require paint and a paintbrush, including:
Peel-and-Stick
It's like wallpaper for countertops. While it may not be as durable as a proper paint job, it's less expensive and looks good.
Tiles
You can also use tiles on your bathroom countertop in place of paint because they're simple, beautiful, and come in all kinds of styles and colors. They are also less susceptible to damage, heat, and moisture than paint or peel-and-stick.
Modular Granite
It can be a great alternative if you're comfortable spending more cash. It's more costly than the other options but not as much as full granite tops. It's also more durable than the other alternatives.
Laminate
Laminate is cheap and easy to install. As a result, you can mostly find it in older homes. Its significant downsides are that it gets damaged too quickly and isn't the most attractive option.