If the tiles in your bathroom look drearily dull, you only have as many upgrading options. You might be thinking of tearing out the old tile and replacing it, which is usually labor-intensive and costly. Painting over the tile seems easier and more affordable. But can you paint your bathroom tiles, and is it worth it?
You can paint your bathroom tiles as a cheaper upgrade option compared to replacing the tiles. This goes for ceramic, porcelain, and natural stone tiles. Painting your bathroom tile is worth it because it makes the room look more impressive and requires minimal maintenance.
While painting your bathroom tiles is a less costly improvement alternative, you've got to figure out what works best for your bathroom setup. You should get the best paint for the job so the coat lasts long enough without peeling and chipping. So let's get to the bottom of it.
Can You Paint Over Bathroom Tiles?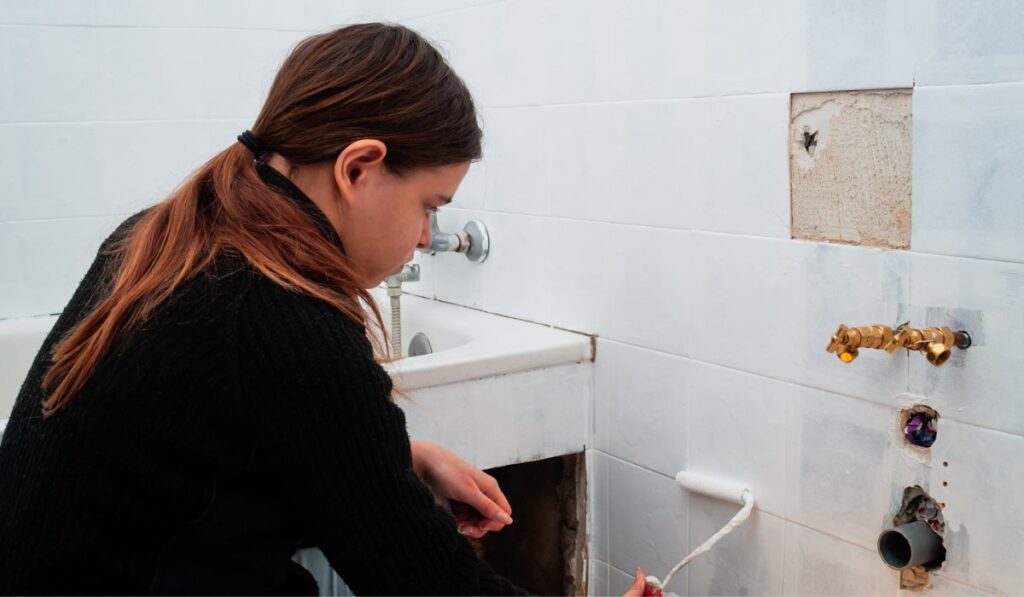 You can paint over your bathroom tiles as a more cost-effective upgrade option. Painting the tiles will also spruce up the ambiance of the bathroom space, besides extending their life.
Except for glazed quarry tiles, you can paint over most bathroom tiles, including ceramic, porcelain, and natural stone tiles. However, you must first sand and prime them before painting.
Whether you buy a refinishing kit (on Amazon) and go the DIY way or hire a professional for the paint job, you can quickly transform the old, outdated tiles in a day. Together with the new look, the time factor is quite impressive, as gutting the bathroom completely could take a week.
Please note, however, that aside from masking the original characteristics of the tile, you'll likely paint over grout lines as well. The tricky bit about them is that the paint in these areas will chip quickly.
What Kind of Paint do You Use on Bathroom Tiles?
For your bathroom, you must use high-quality epoxy paint like the Benjamin Moore Aura Bath and Spa Paint. Epoxy paint is suitable for your bathroom since it's durable and won't easily peel off when it gets into contact with water.
Understandably, not every paint is fit for your bathroom tiles, and using ordinary wall paint is entirely out of the question. Water-based paints quickly disintegrate and won't hold out against your bathroom's humid conditions.
Remember, your bathroom surfaces are constantly exposed to water, so you need durable paint that won't scratch, fade or peel prematurely. Epoxy paint makes the perfect choice because it's highly resistant to abrasion, moisture, and the cleaning solutions you'd use in the bathroom. 
Tips for Painting Bathroom Tiles
Once you've got your hands on the right paint, you want to look at some important considerations. To be blunt, painting your bathroom tiles is a different beast than painting your wall. Home improvement experts recommend the following tips for painting your bathroom tiles:
Thoroughly clean and scuff the tiles to remove soap scum and stray grease. Adhesion is your main concern here, and you don't want anything that will result in the lifting of the paint.
Prime the tiles adequately to ensure the paint bonds properly.
While you paint most of the tile, avoid the tile sections with a clear urethane finish. Instead, you can use a razor scraper to carefully check for areas with a clear finish.
Paint carefully around areas with cracks, crumbing grout, or lifting tiles. Cover off these areas with a wall panel or vinyl liner as you do the job.
For best results, invest in high-quality brushes and rollers.
Using a clearcoat or polyurethane will make it hard to repaint or touch up in the future, so avoid it.
Does Painting Bathroom Tiles Last?
Painting bathroom tiles will last if you follow the correct steps and take good care of the tiles in the long run. If you've used high-quality epoxy paint and done the job correctly, the paint can last a few years.
It shouldn't peel off or crack prematurely, so you don't have to worry about freshening the look with a new coat sooner.
But even if you decide to repaint your bathroom tiles, it won't need as much elbow grease as painting for the first time. The only thing you'll need to do with the old paint is clean it thoroughly and scuff it – no priming required.
Ultimately, the longevity of the paint on your bathroom tiles boils down to your choice of paint and the conditions it must endure. Moreover, the level of attention you took while prepping the tiles for painting plays a significant role.
How Much Does it Cost to Paint Bathroom Tiles?
On average, the cost of painting your bathroom tiles ranges between $50 and $600. But, of course, you'll pay more if you hire a professional for the job and use high-end refinishing kits.
Generally, painting your bathroom tiles is an easy update to your home, and it should come at a pocket-friendly price. Since most bathrooms have a modest size in terms of square footage, they're usually the least expensive rooms to paint.
However, you may have to repaint your bathroom more often than other rooms due to the high humidity and frequent use.
You could part with $250 on average to paint the walls of a full bathroom with latex mildew-resistant paint. This includes the cost of materials and labor if you prefer to hire a pro.
The lowest average cost can be about $50 if you're dealing with a quarter bathroom. And at the higher end of the spectrum, you could part with as much as $600 to paint the tiles in your master bathroom, including the cost of labor and materials.
Even if you part with $500 or $600 to paint your bathroom tiles, it's a worthy upgrade. Painting the old tiles is more economical than replacing them. Let's face it—painting materials are nowhere as expensive as the cost of extensive replacement options. Therefore, you can renew the look and feel of the old tiles without leaving a dent in your wallet.
Other Reasons to Do it Yourself
Moreover, you can complete the project yourself if you love DIY stuff. You can customize the tiles to your needs and style, effectively transforming the color and pattern of your bathroom to your taste.
Another great thing about painting your bathroom tiles is that you have plenty of color options. So if you realize your chosen color doesn't blend well, you can always repaint later with a more appealing coat.
Regarding design flexibility, you don't need to stick with a solid color. While that's the most straightforward approach, you can also use a stencil to create beautiful painted patterns on the tile.
Lastly, painted bathroom tiles require little maintenance. You can easily clean the tiles with a gentle detergent and water. And if you take proper care of the grout, you won't have to deal with moldy grout lines in the future.