We all know it's hard to survive without an air conditioner during the hot summer months. Therefore, a window AC unit is one of the most important gadgets in many homes. But can you use a window AC unit inside the home, without a window?
A window AC is not meant to be kept inside a room. It's designed to be installed in the window, and that's where it works best. You can, however, use one inside the house with a few modifications. As an alternative, consider using a portable AC unit, a fan, or a dehumidifier.
Let's look at whether a window AC unit can be used inside your home and what alternatives you have to stay cool and comfortable on even the hottest days.
Can a Window AC Unit Be Used Without a Window?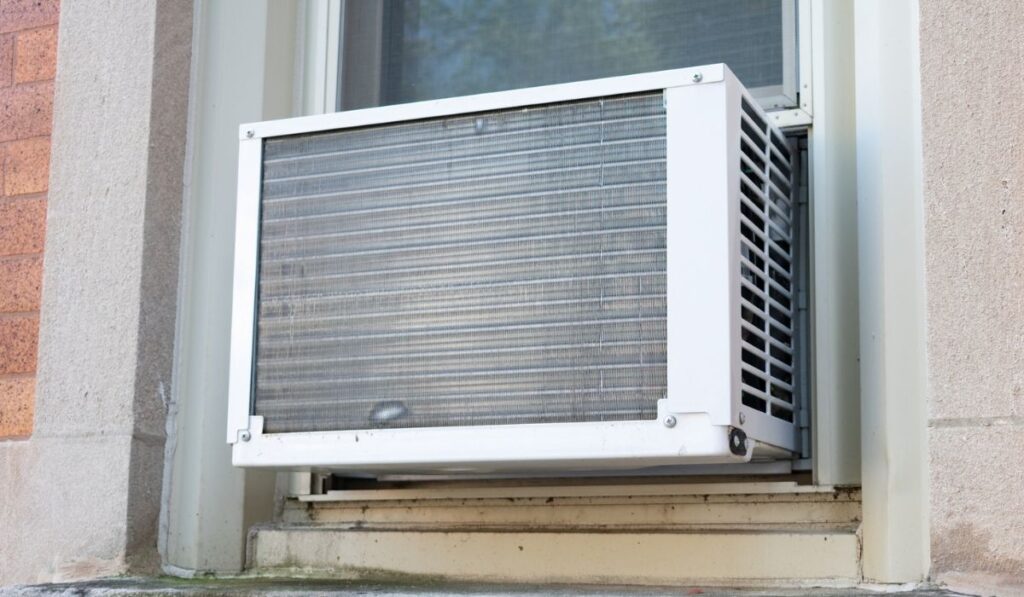 No, you cannot use a window AC without a window.
This is because AC units are designed to be installed in windows, where the by-products of the cooling process can find a way out. Ultimately, you can't use these units without one.
There are, however, some modifications you can make to give the warm air an escape route.
Additionally, if your AC unit isn't installed correctly or securely enough outside your house or apartment, it could fall off and injure someone. If this happens inside your room, it could also cause severe damage.
Knowing how a window AC works will help you understand why it can't be used without a window.
First, window ACs are designed just like any other air conditioning unit. They comprise these parts:
Condenser and evaporator coil

Compressor

Tube with refrigerant

Blower/fan

Thermostat
A thermostat is an automatic unit that detects temperature changes. If the air in the room rises, the thermostat detects this, sends a message to the fan, and turns it on.
As the blower/fan rotates, it pulls warm air in, pushes it into the coils that cool it, and then moves it outside the room. This process runs continuously until the air is brought to a standard cool temperature as per the thermostat's settings.
After the process is complete, the air becomes cool, and the thermostat switches off the fan. The process starts all over again if the temperature rises.
Can You Use a Window AC Unit Inside the House?
You can use a window unit inside the house, but only with a few modifications.
Using the AC inside a room without modifications will likely lead to an even warmer room because the warm air will find no escape and will keep circulating within the room. Additionally, the AC produces some heat, adding more warmth.
Some of the modifications you can carry out include:
If you're a technical person, you can develop a way that allows two pipes and a blower to run from the AC's back. This helps collect the warm air and pushes it outside as if the unit was fixed on a window.

You can also decide to trade one room's comfort for another's. This means letting the unit sit in one room, which will make that room hot but make the others cool and comfortable. However, this is not the best idea as it may damage walls due to the condensation process and vapor production.
Irrespective of which modification you use, you should keep the room well ventilated. If you don't want to leave your window open, look for a place with a door or other openings that lead outside. Just make sure you're not blocking any airflow from coming into the room and circulating.
As with any electrical appliance, you must also be careful that an AC unit doesn't overheat. Find the best spot for your AC unit by using a temperature gauge (on Amazon).
The device will let you know what temperature your house is right now and how much cooler or warmer it needs for people living there to feel comfortable.
Window Unit Alternatives
If you still want to buy an AC unit but don't want to install it in a window, there are several alternatives, such as portable ACs. This is the best option because the units come with all the necessary systems, helping you avoid the struggle of converting a window AC into an in-house-like unit.
Also, portable air conditioners are great for relatively small rooms, and they're much easier to move around. You may, however, need a window unit if your room is larger, but keep in mind that you'll have to deal with the noise from fans and motors.
Here's a quick overview of the alternatives.
Portable Air Conditioners
Portable air conditioners work more or less like their window counterparts. However, the portable ones have a hose that directs hot air and moisture outside. These conditioners also have a fan, compressor, and refrigerant, which work as follows:
The fan rotates and sucks humid and hot air into the conditioner.
Once inside, the air is cooled by the condenser. The condenser also extracts excess moisture from the air.
The hot air gets passed through the refrigerant and applies energy to it, resulting in high pressure, and it moves past the system.
The resulting humidity is removed either through an internal container or a self-evaporation mechanism.
In all this process, the compressor's work is to compress the refrigerant for the unit to be effective. So, what are the best portable air conditioners? Here are our top picks!
1. SereneLife SLPAC8 Portable Air Conditioner
The SereneLife SLPAC8 Portable Air Conditioner (on Amazon) is one of the best remote-controlled air conditioners. It's white in color and comes with a built-in dehumidifier. It's also sleek and light, adding a stylish look to your living room or office.
This conditioner features wheels for effortless movements. It's also energy-efficient and easy to install.
2. Whynter ARC-14S 14,000 BTU Dual Hose Portable Air Conditioner
If you're looking for an easy-to-assemble and durable portable air conditioner, the Whynter ARC (on Amazon) is perfect.
This conditioner comes in either platinum or black and can cool up to 500 square feet. It also has three operation modes: fan, dehumidifier, and air conditioner. Other interesting features include that it boasts CFC-free green refrigerant; it's remote-controlled, and it's made of high-quality material.
3. Evaporative Air Cooler, 3-IN-1 Windowless Portable Air Conditioner
The evaporative air cooler (on Amazon) will serve you perfectly if you're looking for a conditioner that offers value for money.
This is a white-colored conditioner from the AOLOS brand and has 60-watt power. This model is lightweight, can blend with your house decor, and has a soundproof panel, making it ideal for use even in the bedroom.
4. Aporio Portable Air Conditioner
Manufactured by Aporio, the Aporio portable air conditioner (on Amazon) is a relatively small air conditioner that provides a fast and efficient air cooling effect. You can choose from either the white, green, or black options.
This model is less noisy, rechargeable, and ideal for various uses, even for a picnic. It also has a mini water tank where you can pour in water and turn on the fan, instantly providing a cooling effect.
5. Midea 8,000 BTU DOE Portable Air Conditioner
The Midea Portable Air Conditioner (on Amazon) provides you with an effortless operation but still cools a relatively large area of space.
It has an easy installation, so you don't need a technician to help you. This air conditioner also has a washable filter manufactured by the world's top air conditioner supplier, which guarantees quality and durability.
It can also be used as a fan and dehumidifier. The biggest cons are that it's noisy and may lead to high energy costs.
6. COMFYHOME 2-in-1 43" Evaporative Air Cooler
The Comfyhome air cooler (on Amazon) has a tank that helps keep your room cool. It has a tower shape that helps save space. It's made of plastic but still offers perfect service.
This conditioner offers you value for money, has a remote control, and has a three-speed dial to help you choose the fan speed depending on the air condition. Despite these pros, its major disadvantages are that it may be noisy and make an already humid air feel more swampy.
Portable Fan
A handheld fan works well if you want to cool down. You could also go for a ceiling fan suitable for cooling down when you leave the room and don't mind having wires hanging from your ceiling.
Dehumidifier
A dehumidifier is a great option if you often have to deal with too much moisture inside your home during the summer. It pulls water vapor out of indoor areas by using refrigeration technology instead of simply removing warmth as an AC does. You can install it anywhere in your house as opposed to just on windowsills, like a window AC unit.