A king- or queen-size bed is ideal if you have the space for one. It provides more than enough room for you to relax and stay comfortable. The only challenge is finding a washer big enough for your oversized bedding. If you've got a big family, you probably need an extra-large washing machine anyways. But for king- or queen-size comforters used by a single person or a couple, what's the washer capacity required?
For washing a king-size comforter, a washer with a capacity of 4.2 cubic feet is required, while a 3.8 cubic feet washer is sufficient for a queen-size comforter. Loading a king-size comforter is easier with a top-load washer, but front-load washers do better.
Washing clothes is an essential part of life, even though most people don't enjoy doing it. And washing is even tougher when your washing machine is too small. Let's take a look at the various options to pick out the best option for you and your home.
What to Know About Washer Capacities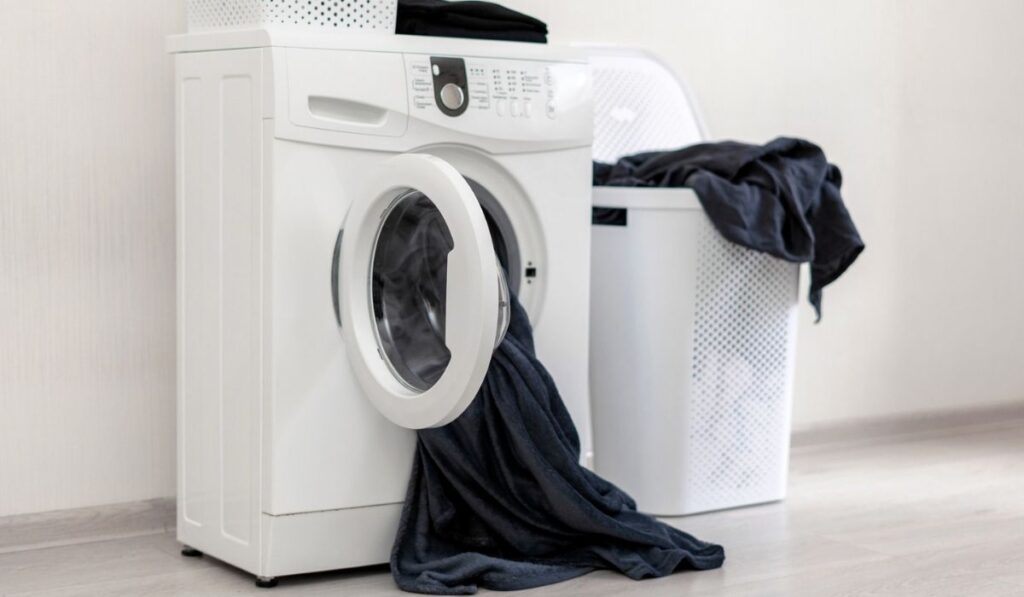 Here are some things you should know about washing machine capacities:
Does Capacity Vary by Washer Type?
Yes. Agitator top-loaders usually have the lowest tub capacity, with the Speed Queen models only offering 3.2 cubic feet of space.
However, some producers now make agitator top-loaders with five cubic feet or more capacity. For high-efficiency top-loaders, front-loaders, and machines with no agitator, the capacities are anywhere from 4.5 to 6.2 cubic feet.
Comforter Cleaning
Rather than heading to the laundromat with your king-size comforter, you can use a washer with a minimum of 4.2 cubic feet to do the washing. Self-washing is best as it allows proper movement and rinsing. As a matter of fact, these bulky items can do with an extra rinse cycle.
Small Loads, Large Capacities
Our washing machine review features high-efficiency top-loaders and front-loaders with a sensor that reads the weight of your load and adjusts the quantity of water accordingly. Most agitator washers also do the same. Therefore, a large washer can be suitable for washing any load size.
Other Factors
Over the years, manufacturers have been providing higher capacities as federal recommendations for energy and water efficiency were tightened, and wash times are longer. (With less water, a longer time is required to clean clothes.)
High capacity washers may have more width than the regular 27 inches, and you want to consider that. Before settling on a model, find out how much space is available for you to work with.
You need at least 6 inches to accommodate plumbing hookups behind the washer and about one inch between the dryer and the washer. Also, measure the doors of your home and hallways that lead to the laundry room to make sure your new machine can pass through them.
What Washer Capacity Do I Need For My Comforters?
There are no standard sizes for comforters. For this reason, it's possible to buy a king-size comforter that happens to be the wrong fit for your king-size mattress.
This can make things even more confusing and result in many unnecessary trips to the store. In the following sections, you will learn how to pick the right comforter size for your bedroom.
King Size
A California king comforter is sized between 107 and 110 inches in width and between 96 and 98 inches in length.
Washer Recommendation
As a general rule, a front-loading washer that has a tub of nothing less than 4.2 cubic feet capacity is appropriate for washing a king-size comforter. When washing the comforter, please don't add anything else to the washer, or it may not turn out clean.
Queen Size
The queen-size comforter has a width of 81 to 88 inches and a length of 86 to 100 inches. However, some brands may label it as a full comforter, and while it may fit a queen-size bed perfectly, it will be too long for standard full-size beds.
Washer Recommendation
For a queen-size comforter to be washed properly, a high-efficiency washing machine of a least 3.8 cubic feet is required (with no agitator). The comforter should be snug without getting crammed.
Other Sizes
King bed comforter sizes have a length between 86 and 88 inches and a width of 102 inches. California king mattresses are narrower and longer than standard king mattresses, and their respective comforters will not be a proper fit for each other.
Five Recommended Washing Machine Brands That Can Wash Your Comforters
Maytag MVW7232HC
This 5.3-cubic-foot Maytag can easily handle your king-size comforter. However, you should not add anything else to the load, such as pillowcases or sheets. The comforter needs space to move around to be clean. The built-in water faucet will let you rinse any stains before washing, and the deep fill option and extra power button will add that extra boost to it.
Another great feature of the Maytag top-loader is compatible with Siri, Alexa, and Google Assistant. This means you can start and stop any action on your washer from your computer, phone, or Alexa device. The quick wash cycle will help you with any other wash load that you want to do quickly. However, it's advisable to avoid using that setting for your comforter.
Whirlpool WTW7120HW
This Whirlpool is also a top-loading washing machine with a capacity of 5.3 cubic feet and smart features that you can operate from any device such as your phone. This is also handy if you need help with any problem with your machine. And thanks to the load and go option, there will be no need to add soap often. The machine can do it for you.
This also has a built-in faucet as well as a stain brush to remove any stains before your comforter goes into the wash. With the delayed start option, you are free to set the starting time to whenever it is convenient for you. The quick wash cycle is also there for any small loads you want to do quickly.
Samsung WA50R5400AV
The capacity of this Samsung is less than 5.0 cubic feet, but it is still big enough to fit your king-size comforter. Just be sure to place it loosely to have enough space for motion. It also comes with smart care, letting you use any device, such as your phone, to handle your laundry. In addition, it's very quiet and self-cleaning.
It also has a super-fast wash and a built-in faucet like the others, but this one comes with the EZ access that makes it easier to reach clothes at the bottom of the machine. You can now get to that last sock without struggling.
LG WM9500HKA
Fitted with Turbo Wash technology, this 5.8-cubic-foot LG washing machine can fit your king-size comforter with more room to spare. You can also purchase the Sidekick addition, which will enable you to wash another load simultaneously. The pillowcases and sheets can be washed in the Sidekick while the comforter is washed in the main tub.
WiFi smartphone access is also handy for managing your loads from any location. Thanks to the extra-wide door opening, it's easy to put your comforter in the washer and take it out later. There's an allergen control setting to remove pet dander so that you don't end up sneezing when your pups sleep in your bed.
General Electric GFW850SPNDG
The super-fresh vent system and built-in antimicrobial technology of this GE ensure that you have no cause for concern regarding mildew or mold. The 5-cubic-foot tub provides enough room for your comforter, and you can rest assured it will be clean thanks to the power clean option.
This machine cleans while rinsing and dispensing soap for as many as 32 loads. For smaller loads, you can allow the washing machine to do the drying for you. That way, it won't be necessary to switch.
Don't Forget the Dryer
Irrespective of the kind of washer you buy, ensure that you choose a dryer of the correct size. If there isn't enough room to allow for free movement inside the dryer, you may end up having to dry it several times before it's done.
Furthermore, your dryer can also cause wrinkles if it isn't large enough. You can hang the comforter on a clothesline to let it dry partially before putting it in the dryer. This will save you time and reduce wrinkles.