Do you have some extra space that you aren't sure what to do with in your utility room? You might want to consider adding some fixtures to the room to make it more usable, such as a toilet.
Installing a toilet in your utility room is possible as long as your utility room has water and sewage pipe access. If it doesn't have access to water and sewage, installing a toilet is still possible, but it'll be much more difficult and expensive to do so.
Let's take a closer look at some of the pros and cons of putting a toilet in your utility room, as well as some design tips to consider should you decide to proceed.
Should You Add a Toilet to Your Utility Room?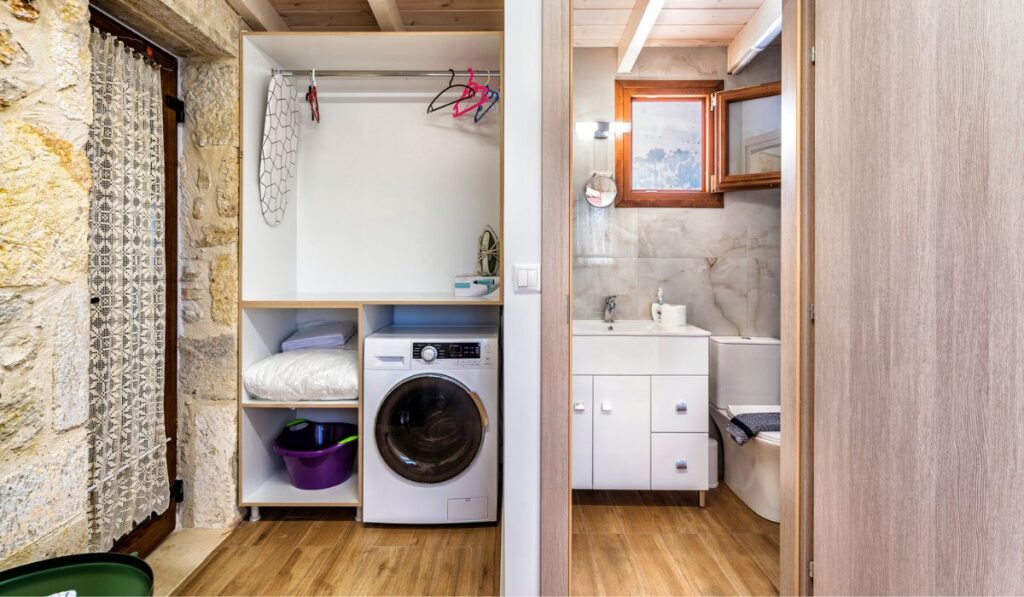 If you've got a utility room in your house, perhaps it's already outfitted with a washer and a dryer, maybe a large sink, and some other useful appliances. But why not add a toilet and create an additional bathroom?
Generally, you should only add a toilet to your utility room if the room is already set up for it. Any utility room with washer and dryer hookups will likely make the cut, but if your utility room doesn't have water pipes, it'll make things a bit more complicated.
There are several reasons you should consider adding a toilet to your utility room. Not only is it great to have an extra toilet in the home, but it can also serve other purposes.
First and foremost, a toilet in a utility room makes a great guest bathroom, while still allowing you to have a separate space for laundry, dog washing, or other activities you'd prefer to keep out of the kitchen. Plus, you'll have an extra toilet for when your main one is being used. No more waiting!
Adding a toilet to your utility room can also make things easier if you're potty training young children, as you won't have to leave the room in the middle of a task to accommodate your child. It will also save you time if you're performing a difficult task like washing the dog in the utility sink, and you don't want to leave the dog alone in the sink when nature calls.
Above all else, adding a toilet and other bathroom fixtures to your utility room can help increase the value of your home when you're looking to sell later down the road.
What Are the Downsides to Adding a Toilet in the Utility Room?
Unfortunately, adding a toilet to your utility room isn't all sunshine and roses, and there are a number of downsides to the idea.
One of the main downsides is that while you have a second toilet a guest can use, your utility room may not have room for a shower, meaning your guest will still need to use another bathroom in your home during their visit.
There's also the issue that if the toilet doesn't have a separate door partitioning it away from the rest of the room, it may prevent you from using the space.
For example, your significant other could be using the toilet for an extended period of time, rendering you unable to move your laundry from the washer to the dryer to start another load.
Additionally, not all utility rooms have a sewage hookup, and this can make installing a toilet in your utility room more expensive than if you were to install it elsewhere in your home.
Design Tips for a Utility Room Bathroom
Ready to convert your utility room to a bathroom? Here are a few design tips you should consider.
Adding a Shower
Although your utility room likely already has a sink, you're probably missing a shower after you install a toilet. Consider adding a shower to make your utility room toilet a full-purpose bathroom.
Not only will this increase your home's resale value, but now you can truly use this room as a guest bathroom. Just be sure the outlets for the washer and dryer are located far away from the shower.
Stack Your Washer and Dryer
Installing a toilet in your utility room will take some space. The best way to create this space is by stacking your washer and dryer.
You'll also find that a stacked washer and dryer is much more convenient when it comes to transferring laundry. Ensure you measure before you do this, however, as some ceilings may be too low.
Place Your Toilet Near the Septic System
After you stack your washer and dryer, it may seem easy to plop a toilet in the space that's now available. You'll want to be careful, though, because the toilet needs to hook up to the septic system, and if this isn't nearby, it can be a costly conversion.
The Final Word
Overall, no matter how you look at it, installing a toilet in a utility room is a great way to get an extra bathroom in your home without a lot of extra work.
Follow the design suggestions listed above, and in no time at all, you can have an amazing additional bathroom in your home.