If you're in the market for garage doors, you've come across insulated and non-insulated options. We all know the benefits of insulation, but is the price tag worth the investment?
Insulated garage doors can help you save money and increase your home's value. These garage doors can be quieter, more durable, and help protect your belongings as well. Polystyrene (styrofoam) is an excellent entry-level insulation to use, but the top-of-the-line option is polyurethane.
It seems that insulated garage doors are the perfect investment for any homeowner, right? Unfortunately, this may not always be the case. There are some risks and precautions you should know about before purchasing an insulated door. Read on to find out more!
Should You Buy An Insulated Garage Door?
If you're in the process of buying a new garage door, you've come across insulated and non-insulated options. Each of these options has its own set of pros and cons you should be aware of.
So, what type of person benefits the most from owning an insulated garage door?
You should buy an insulated garage door if you have an attached garage, live in extreme climates, use your garage for hobbies, or if you're planning to sell your home within the next ten years.
What Are The Benefits Of An Insulated Garage Door?
If you met our above criteria for an insulated garage door, you might still be wondering what the benefits are. Insulated garage doors can save energy, are more durable, and increase your house's value.
Energy Savings
Although often overlooked, Insulated garage doors can save you energy and money. Garages are typically attached to the main house. When a garage isn't properly insulated, it can affect the temperature of the surrounding house and rooms.
Non-insulated garage doors can make it more difficult to heat and cool your home.
Insulated garage doors can save homeowners upwards of 20% on their annual energy bills. 20% savings isn't anything to scoff at. That's the difference between $1,200 a year and $960!
Increased Durability
Most garages and garage doors can take a beating, but insulated garage doors are tougher and more robust than their counterparts.
Their increased strength is due to the materials and construction process. Insulated garage doors are typically made from heavy-duty aluminum and have added layers of insulation.
Due to their increased durability, insulated garage doors are less likely to suffer from dents, scratches, and damage. Less visible damage can increase your home's curb appeal and resale value down the line.
Increase Resale Value
It's no surprise that insulated garage doors can increase your home's market value. Proper insulation goes a long way in saving your money.
In fact, some homeowners have recouped 72% of their garage door expenses. If you're planning on selling your home down the line, you may want to consider insulating your garage.
Helps Protect Belongings
Insulated garage doors can help protect your car and belongings from damage. Vehicles stored in insulated environments are less likely to endure freezing conditions. Freezing conditions can damage vehicles, resulting in hefty fees.
Insulation also protects your other valuables and tools. Extreme heat and cold can ruin paints, tools, and raw materials. Thicker doors are also harder to break into.
If you store your vehicle or other valuables in your garage, you may want to consider insulation.
Produces Less Noise
Sound levels aren't the main selling point of insulated garage doors, but it's worth mentioning. Old and traditional garage doors are loud and make a lot of unnecessary noise.
Insulated garage doors typically produce less sound due to their construction. Insulated garage doors are built very tight, resulting in fewer loose sounds and vibrations.
How Do Insulated Garage Doors Help With Energy?
We all know insulation regulates temperature and can save money down the line. But how exactly does insulation work, and how does it help with energy?
How Does Insulation Work?
Insulation materials are measured using R-values or R-ratings. R-values are the measurement of how effective a material is at reducing heat loss. Typically, the higher the R-value, the better the insulation.
For example, the average building usually has an R-value of 20. If you added fiberglass insulation, this value might increase to 35. However, R-values aren't always absolute.
Different manufacturers use different methods, so R-values are only a gauge, not a definite. For example, an R-18 insulated door might only be 5% better than an R-8 door. For the best results, speak with a professional or the manufacturer.
What Are The Different Types of Insulation?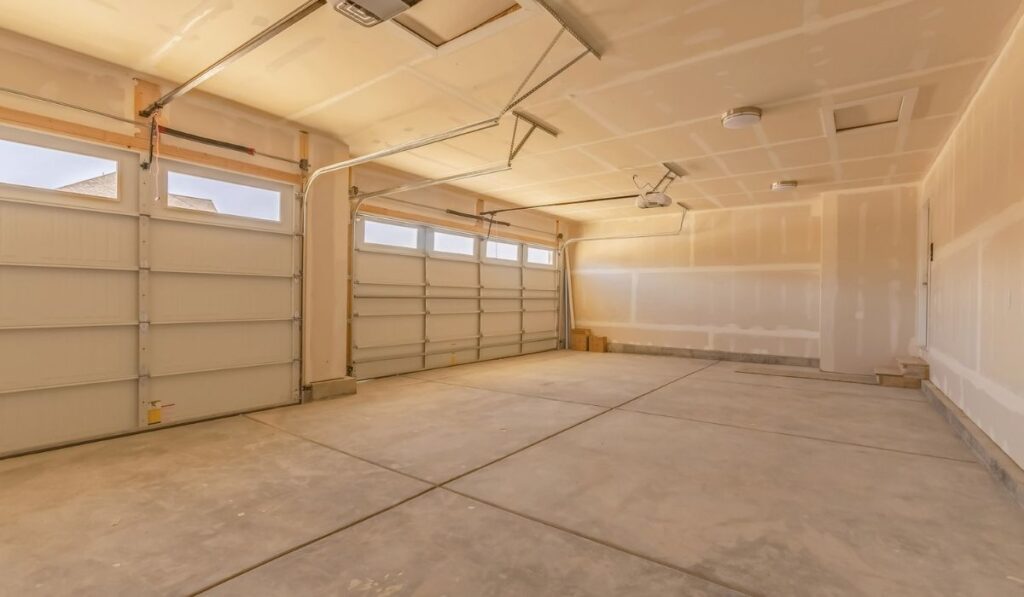 Garage doors are typically insulated with one of two types of materials: polystyrene and polyurethane. One of these materials has to be better than the other, right?
Polystyrene
Polystyrene, or styrofoam, is a common material used for insulating garage doors. Polystyrene comes in varying densities. Typically, the more dense the material, the better the insulation. However, this material is not the highest-rated insulation for garage doors.
Polyurethane
Polyurethane is the highest-rated insulation for garage doors. Polyurethane is basically liquid styrofoam. The liquid consistency allows this material to seep into cracks and crevices, insulating more space.
This material is sandwiched between thick layers of steel and can reduce air leakage by upwards of 80%.
Which Insulation Should You Get?
So, polystyrene or polyurethane? Polyurethane is the highest-rated insulation material for garage doors. However, polystyrene is a great entry-level option for those seeking insulation.
Do You Need To Insulate a Detached Garage Door?
Detached garages can be an excellent addition to your home. This type of garage can increase resale value, boost curb appeal, and provide additional space. However, insulating this type of garage door may have diminishing returns.
Insulating a detached garage won't have the same benefits as insulating a traditional garage. This is because traditional garages are attached to the home and affect the temperature.
Detached garages won't affect the temperature of your home.
However, insulating a detached garage can be beneficial if you plan to spend a lot of time in it. If you're doing hobbies or work in your garage, it'll be nicer to have it insulated.
Insulating detached garages can also be beneficial if you plan to sell your home. Insulated garages are always going to be worth more, whether they're attached to the home or not.
So, do you need to insulate a detached garage door? The short answer is that It depends on your needs. If you plan to spend a lot of time in your garage, it may be better to insulate it.
Insulation will also add value to your home if you plan on selling it down the line.