It isn't uncommon to see small puddles of water in your garage after a storm. They may seem harmless, but these puddles can cause severe issues for your garage and home if left unattended. So, how can you keep water out of your garage?
The easiest and least expensive way to prevent water from entering your garage is by installing garage threshold seals that go between your garage door and the concrete. Alternatively, you can install a trench drain. Altering the nearby landscape and installing gutters can also work wonders.
Although garage door leaks are common, they're often easy to fix. All it takes is a bit of elbow grease and a can-do attitude. So, what do you need to know about keeping water out of your garage for good?
Easy and Inexpensive Ways to Keep Water Out of Your Garage
There are many reasons why your garage may flood. The most common cause is overflow from your driveway, yard, or the surrounding landscape. Thankfully, there are multiple solutions you can utilize to reduce excess water and overflows.
Garage threshold seal kits are an inexpensive and easy way to prevent excess water from creeping into your garage. Creating a trench drain is a more involved solution and works well in most cases. Installing gutters and altering your landscape are other DIY solutions you can employ to prevent water from overflowing into your garage.
What Are the Best Garage Threshold Seal Kits?
Over time, concrete floors can shift and move. Shifting concrete creates gaps and openings where water can infiltrate. That's where solutions like garage threshold seal kits can come in handy.
A garage threshold seal is a piece of durable rubber, plastic, or aluminum that fits right between where the concrete meets your garage door. Threshold kits create a tighter seal, eliminating gaps and openings.
Garage threshold kits can also help regulate the temperature inside your garage, keep out bugs, and reduce theft. Here are some of our favorites:
Papillon Universal Garage Door Threshold Seal Strip
The Papillon Universal Threshold Seal (on Amazon) is excellent for most cases. It's 20 feet long, allowing you adjust it as needed to fit your garage door. The hard rubber is 3.5 inches wide and 0.5 inches in height.
The EPDM rubber used is specifically designed to withstand extreme temperatures and conditions. The weatherproof seal will prevent leaves, dirt, grass, rain, snow, and any other pests from invading your space.
The high-visibility yellow strip will also help guide you when entering or exiting your garage in poor lighting conditions. The installation is straightforward and takes no time at all. However, you have to purchase the adhesive material separately.
Garadry Garage Door Threshold Seal Kit
The Garadry ¾" Threshold Kit (on Amazon) is another great option to consider. This all-in-one solution comes in multiple lengths, allowing you to choose the size that's right for you. The ¾" height prevents water, rain, dust, debris, and other unwanted substances from entering your garage.
The heavy-duty vinyl won't degrade with prolonged exposure to water and other harsh conditions, and Garadry's 5-year warranty will allow you rest-assured you're purchasing a product that's meant to last.
You won't have to worry about purchasing any extra materials or supplies as this is a complete DIY kit. The threshold kit comes with adhesive, side blocks, and easy-to-follow instructions. For under $100, this product is worth a look.
How to Prevent Water From Entering Your Garage With a Trench Drain
If you have a driveway that slopes into your garage, adding threshold seals won't be enough to prevent water from getting in. The excess water will run down your driveway right back into your garage. That's where trench drains come into play.
Although more labor-intensive, trench drains (channel drains) are still inexpensive, straightforward, and reliable solutions. Trench drains are installed outside your garage, in the driveway.
By digging up the concrete in your driveway and installing a sloped drain with a metal grate, you can prevent excess water from pooling up in your garage.
Other Easy Solutions for Keeping Water Out of The Garage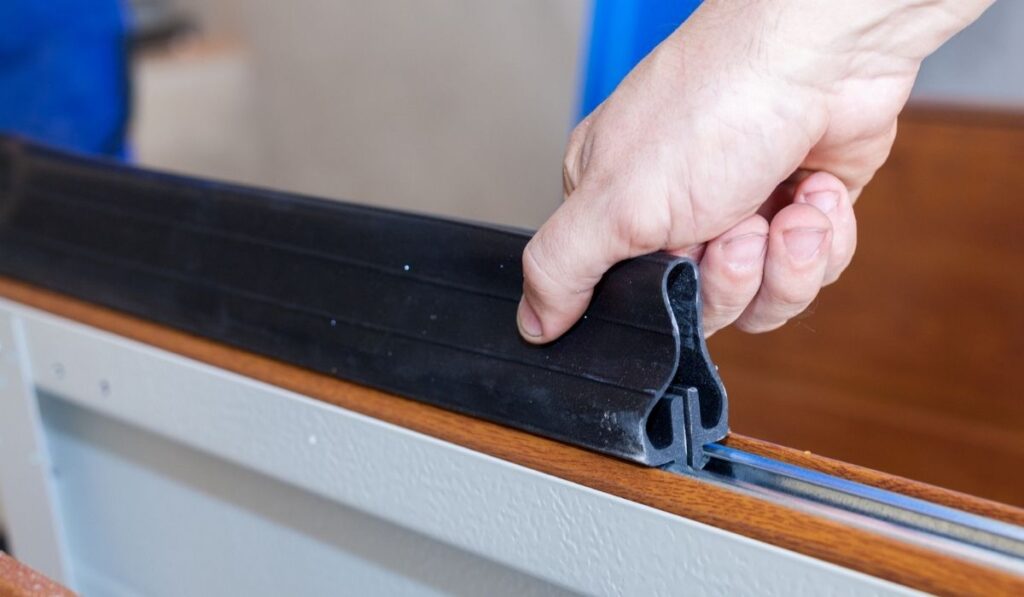 There are other solutions for keeping water out of your garage besides threshold kits and trench drains. Installing and caring for your gutters can help excess water flow away from your garage door. Alternatively, you can alter the landscape around your garage door as a simple DIY solution.
Install Gutters Around Your Garage Door
One way you can keep water out of your garage is by installing gutters around your garage door. Gutters help direct water away from your house, resulting in less rainwater seeping under your garage door.
The difficulty of this solution can vary, but it's well worth it. Consider installing new gutters around the edges of your garage with attached downspouts. The attached downspouts will help transfer water from your roof and away from your property.
Be sure to properly maintain your gutters if you already have them installed. Clean them out regularly and make sure they're flowing correctly to avoid excess water build-up.
Examine the Soil Grade
Another way you can prevent excess water is by examining the soil grade around the perimeter of your driveway. If the edge of your driveway is higher than the actual driveway, excess water will pool up and overflow. If rainwater collects in a single spot near your home, it's bound to penetrate the interior.
You can easily change the landscape of your home to redirect excess water more naturally. The goal is to drive away excess water from the foundation and away from the garage door. Although it may take some elbow grease, altering your landscape is exceptionally cost-effective and straightforward.
Keeping Water Out the Easy Way
So, what's the final verdict? Garage threshold seal kits are going to be your best bet for solving excess water in most cases. This solution can be inexpensive, fast, and straightforward.
Utilizing trench drains or channel drains can work as well, but the process is a bit more involved. Alternatively, you can do some landscaping if you don't want to spend the cash on a seal kit. Any of these solutions will benefit your garage and keep excess water from pooling up on the inside of your garage.